The "Elbebogen" Guest House Welcomes You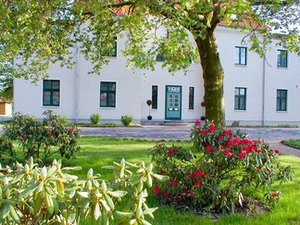 The "Elbebogen" Guest House is situated in one of the two villas that were constructed in 1915 when the nitrogen plant was first built. In their rich history, they originally served as the offices of the director of the Bayerische Stickstoffwerke nitrogen plant. After the war, they were occupied by the Russian General Malin; subsequently, the Soviet military administration converted them into a daycare centre, and they continued to be used for that purpose until 1994. In 1997, the facility was converted into a training centre including a hotel.
The proprietor of the facility is SKW Stickstoffwerke Piesteritz GmbH
and it is managed by P. Dussmann GmbH & Co. KG.
The "Elbebogen" Guest House features ten comfortable rooms with a total of 18 beds.
2 single rooms
7 double rooms
1 suite
1 conference room for about 25 people
1 breakfast room with a veranda (for about 50 people)
all rooms are equipped with shower/WC, telephone, radio alarm clock, colour satellite TV, minibar
Fitness room
modern conference technology
car park on site
A modern fitness room is located in the basement.
Treadmill
Rowing machine
Ergometer
Weight bench
Floor mat
a variety of fitness activities.
Modern Conference Facilities
Our modern conference room is available for conferences, seminars and other events of up to 25 people.
A fully equipped media system is included.
The AMX control system makes it possible to manage all aspects of your presentation from a
simple touchscreen.
The following devices and features are available:
big screen projector
screen
public address system incl. radio microphone
visualiser
video camera
CD Player with five-step changer
Double cassette recorder
television, radio
room features (blackout, illumination)
laptop connection
Internet Access
Overhead Projector